Disclaimer: I will not disclose whether or not I partake in copyright-infringing downloads. I do however use Bittorrent to download free-to-share files such as Linux distos and films published by
Vodo.net
.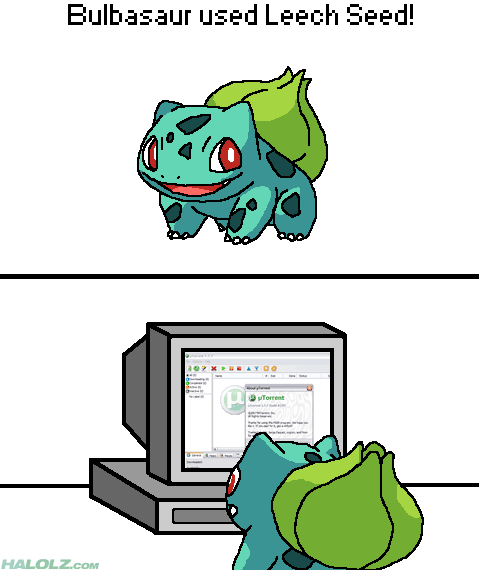 "THE PIRATES ARE DESTROYING OUR ECONOMY!! WE'RE ALL POOR BECAUSE OF ILLEGAL DOWNLOADING!!" Am I the only one sick of hearing this? The RIAA, the MPAA, game publishers, and everyone else are exaggerating the consequences of people taking in media without paying for it. I personally believe that illegal downloading and stealing are not synonymous. If you download a movie, you're giving the studio the exact same amount of money as you are when you legally borrow it from a friend or buy it used. Even if you don't lose any sleep after torrenting the entire Malcolm in the Middle series, there should be some guidelines that we should follow.
Don't be greedy.
Pirating music is easy. Really easy. When you realize this you will have the urge to fill your hard drive with enough anime to make even a weeaboo blush. Resist this urge. It's not cool to keep downloading movies when you have gigabytes of unwatched films. Everything in moderation, my friends.
Use legal alternatives as a first resort.
I love The Middle, but it only comes on once a week, and I'm almost never near a TV when it's on. I watch it every week but I've never pirated it. I watch it on Hulu. Hulu is an excellent free streaming service. It's so good that if they have a show, there's no reason for me to go torrenting. In between Pandora and Spotify, you should have just about all your music needs satisfied. That's right. You can stop downloading the Reel Big Fish discography.
Give back.
Every once in a while, pre-order a video game. Go to the movie theater. Attend a concert and buy a T-shirt. It's okay, little ones because there's no shame in paying for it. The only reason these companies aren't going under because of all of this pirating is because a lot of people are actually paying for it. Loosen the grip on your wallet and be one of those people from time to time. Also, when you do download, keep a good ratio. Nobody likes a leech, kid.
The older the better.
The less money someone is potentially making from something, the more acceptable it is for you to pirate it. I'm sure Nintendo couldn't care less if you download a Pokemon Red ROM. I've read plenty of articles about playing old games on emulators but I've never once seen a legal disclaimer in any of them. So go ahead, download Night of the Living Dead. The studios can't hear you over their money.
Well, I hope that I brought some order to the world of internet piracy. Maybe if we all followed these rules the corporations would back off…
I'm sorry, I can't say that with a straight face.
---